Struggling to keep the kids entertained this summer? I feel your pain, mama. That's why I came up with this super fun, easy, and CHEAP summer art activity for toddlers.
(Just an FYI that this post contains affiliate links, which means if you purchase an item with one of my links I get a small commission at no extra charge for you. Pretty sweet, huh? It's a great way to support this site if you love what we share.)
Run out of ideas for summer fun?
Maybe you're like me… I made a big summer activities list and even a summer bucket list of things to do with my kids. But somehow a lot of those summer activities entail a ton of prep and work (or money). Something I am NOT really interested in doing when it's 90 degrees out and I was up all night with grumpy kids.
We have at the typical summer toys and backyard fun set up for the kids like an inflatable pool and a little splash pad that they love. But with toddlers and even preschoolers, their interest begins to wane in even the fanciest fun summer toys and activities pretty quickly! So I decided to create a fun little art project that the toddlers AND my 4 year old could all have fun doing together, didn't cost an arm and a leg, and we could do over and over again.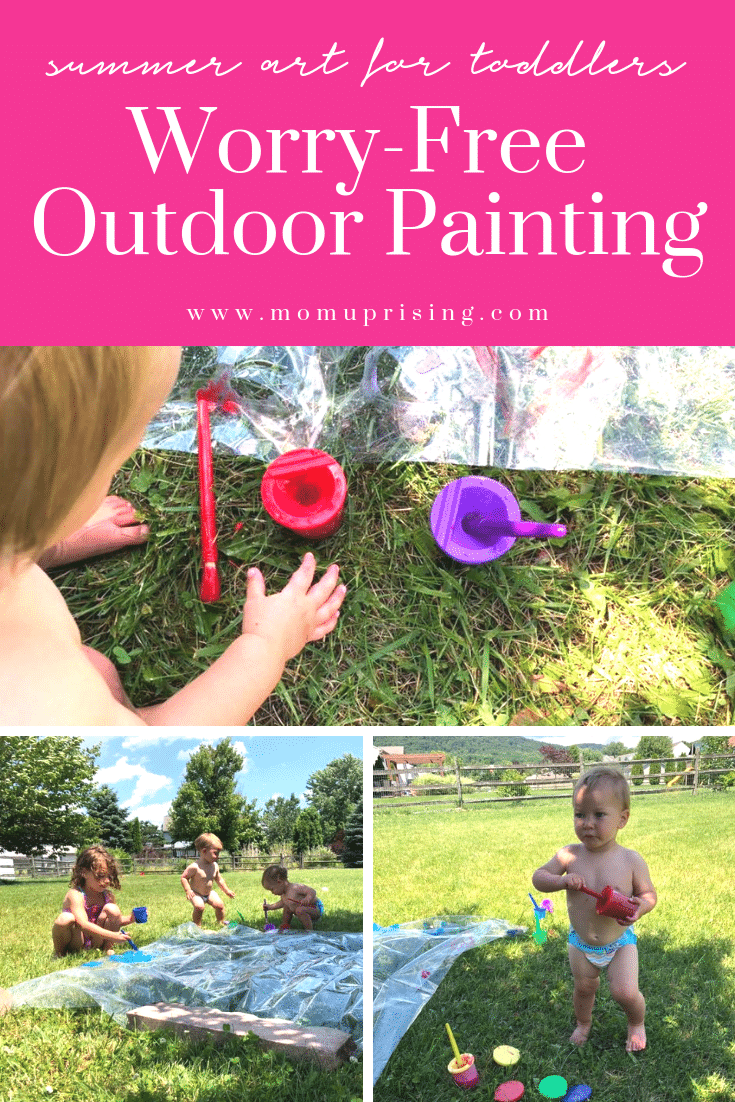 Water Play + Painting Outside with Bath Paints
I decided to combine two fan favorites: water play and painting! All the awesome bath paints they make seemed like so much fun, but I was a little dubious about having to clean that mess up in my actual bathtub. Most of the time I have three kids in one bath, so it could quickly escalate to paint not just in the tub but the floor, walls, ceiling… and who knows where else the could find to throw it.
So it turned into an outdoor activity for toddlers, and my preschooler loved joining in too.
First I found an old clear shower curtain I had laying around and then hit up Amazon for a few extra things that I could reuse for more than one day. I scooped up a set of bath paints, and also this really awesome set of spill-proof paint cups that we can use for more art activities indoors too. They even come in a set of 10 so we had more than we needed.
Setting Up the Art Activity
Here's what you will need:
A hose or bucket of water
A shower curtain or piece of plastic
Once you have everything assembled and ready to go (which takes about 2 minutes) you simply lay out your shower curtain or piece of plastic, spray it down with water (bonus points for spray the kids down too to stay cool). I used rocks I had to weight the shower curtain down so it didn't blow away, which they also painted, and let them go to town!
I could sit down and drink my kombucha in the shade watching them have fun without worrying about the mess!
The spill-proof cups came with lids so when they were done I just popped the lids on and saved the paint for the next time we wanted to do this summer art activity for toddlers.
To clean up I just grabbed the hose and let the preschooler hose down the shower curtain and anywhere the paint may have ended up, which was so fun for her! We may have all gotten a little wet at this point because we all know what happens when a kid gets ahold of the hose.
It turned into the quintessential summer fun!
Keeping them all occupied, having fun and happy in the summer can be a challenge. But with a few cheap ingredients, you can create super easy summer art activities for toddlers (and big kids too).
Trying to pick a formula? You're in the right place. If you've narrowed your choices down to Similac Advance vs Pro Advance, but just can't make up your mind, let's break down the differences so you can make an informed decision. There are so many formulas out there...