Feeling overwhelmed with filling out your kids Christmas list this year? Use my list for my 2-year-olds and 5-year-old as inspiration
Despite my best attempts to keep things to a minimum when writing my kids Christmas list, I went a little overboard with Christmas the last two years. When you're a parent, it's easy to overspend on your kids Christmas list.
If you have the resources, then go ahead and stack those presents ceiling high for Christmas morning if that gives you and your kids the most magical day.
But for me, I have been working hard at cultivating a minimalist lifestyle that involves minimal waste and also learning to live with less. I've been learning that abundance sometimes is born out of restriction and making do with less.
For example, my kids have been playing with the same core group of toys everyday for over a year now. I occasionally swap some of them out, but for the most part, they are good with what they have and do not NEED any more toys.
I'm no Grinch though. There will be toys under the tree, but I've done my best to be thoughtful about the process. So I'll share that thought process behind my kids Christmas list this year.
My attempts at the four Christmas gifts idea
By now you might have heard of the four Chirstmas gifts rule?
It's super easy to learn and remember. Each child receives four gifts, and they are:
Something they want
Something they need
Something to wear
Something to read
This rule is über popular among the minimalist mom community. The rhyming scheme gives it some fun and flair. It's practical but still fun. It's enough for children to get that good old fashioned Christmas morning experience without breaking the bank.
Following this rule was my goal for this Christmas, and I both succeeded AND failed at it.
I did keep our kids Christmas list down to mostly 4 items per child, and then 2 items that they all share. BUT I didn't follow the cute rhyming scheme.
Instead, each kid got 3 toys and 1 item to wear.
I did cheat a little and I also got them all one of the same gift, and one gift for them all to share.
So, what were the items I chose for our kids? Here's a rundown.
For my 5-year-old daughter
This is one of the gifts my daughter requested for Christmas, and so it had to go on the kids Christmas list. We went to Disney World this year, and so Mickey is still on the brain. She love imaginative play and playing pretend. I know she'll use this not just to play pretend with Mickey, but all of her little toys. She likes to mix and match all her favorites. 
I got this super cool PJ Masks cup for my daughter last year and it broke! But for a $6 plastic cup, I didn't expect longevity. So I decided to replace it this year because she loved it so much. 
My daughter fell in love with these at Target and quickly added them to her Christmas list. This and the Mickey Mouse Clubhouse are the only two items she actually asked for this year. She's easily pleased. For her birthday she literally only asked for one thing, and I complied! Why heap stuff on them they didn't even ask for?
I almost sprung for the American Girl doll, but the one I really wanted for my daughter was like $200 and I just couldn't bit the bullet on that one. So instead I opted for this much more affordable doll from Target that still looks like my daughter with curly hair and dark brown eyes. She did NOT ask for a doll, but I wanted to choose something for her that would be a surprise. Plus, she loves dolls in general, but doesn't have one of this style.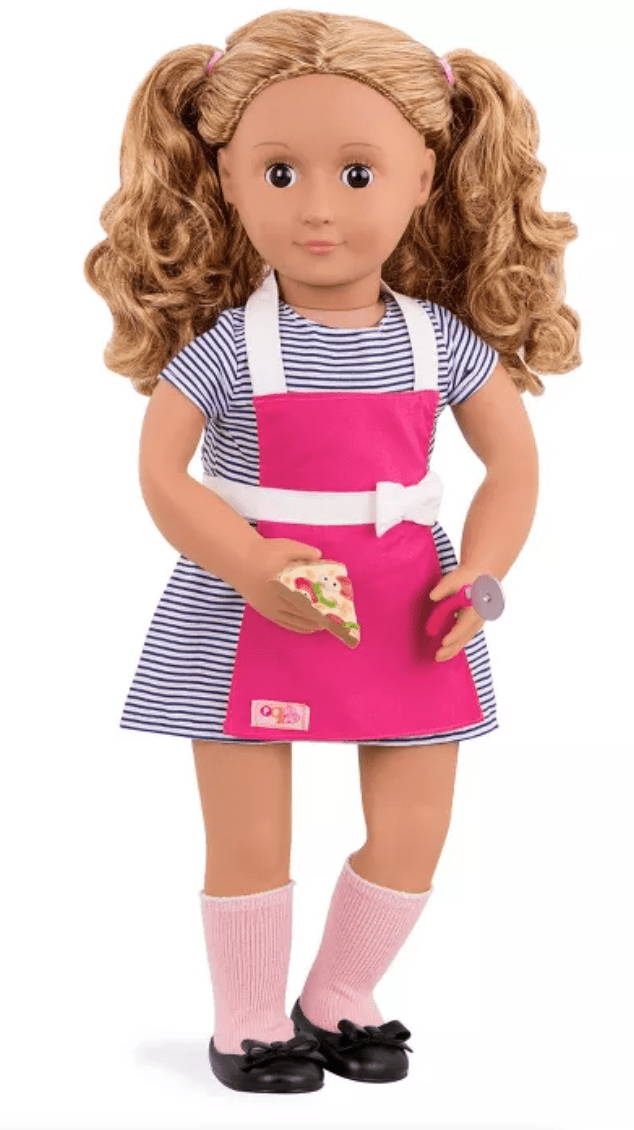 I try to keep any new toys I get for the little ones to be as educational as possible, but still super fun. So I decided to get them some new and more advanced stacking toys that will challenge them but still be totally fun. The bottom one is extra awesome as it spins, plus they love rockets!
After I got my daughter her doll I realized I needed one more item for the boys. So I figured I'd just get them a doll too, and  I was so excited to find this adorable little guy for each of them! I think he's the perfect doll for little boys.  A week or so ago I was reading them a book about babies and they loved pretending to feed the little baby in the book, so I think these will be a big hit for them!
A friend of mine has Oaki these rain suits for her boys, and I think they are so perfect for outside play when the weather isn't the best. I decided months ago to add them to our kids Christmas list. You can use them when its wet and rainy, or bundle up underneath and use them as a waterproof later in the snow! I got them a size up so they will last a long time and have plenty of room for bundled layers.
My kids all love to draw, color, and play with letters. So these easels were a no brainer for the kids Christmas list when I saw them on sale on Amazon. I got one for each of them so there will be no fighting! (though somehow I'm sure they'll manage to)
This was the big splurge on the kids Christmas list this year! Last year we also got them all one large item to share, which was a kitchen. This year the train table seemed the best call, and something all three kids could get use out of. I'm super excited to see if they love it!
What do you think of our kids Christmas list this year? What's on your list? Let me know below in the comments!
You've been breastfeeding your toddler for what feels like foreeeever, and you're ready to wean. But how? In this post, I'll break down some tips for how to wean a toddler from breastfeeding. I've put in a combined roughly 94 months of breastfeeding so far between my...