Keeping three kids entertained all day is rough, but since moving towards a Montessori style playroom, it is much simpler.
Montessori style education was created by Maria Montessori in the early 1900's, and is still super popular today.
I am by no means an expert in Montessori education, but I have researched enough to begin to incorporate Montessori inspired principles into our daily life and playroom.
So when I was creating a new playroom in our home that would work for all three of my kids, ages 2 and almost 5, I wanted to draw inspiration from Montessori style.
If you go check out Pinterest for some Montessori style playrooms, they will all look quite similar with high end toys and neutral colors. That is NOT what you will see here. This is a DIY Montessori style that is not picture perfect, or even close to perfect.
And that's ok! My goal is to incorporate as many Montessori principles into our life within a budget with little care for trendy aesthetics.
(There might be some affiliate links in this post, which means if you purchase an item through my link, I get a small commission at no extra cost to you.)
What is Montessori?
According to the American Montessori Society, "Montessori education is student-led and self-paced but guided, assessed, and enriched by knowledgeable and caring teachers, the leadership of their peers, and a nurturing environment."
Some of the primary features of Montessori education is a focus on practical life skills, hands-on learning instead of textbooks or workbooks, and a focus on positive discipline vs. punitive discipline.
Why do we do Montessori at home?
I primary lean into attachment, intuitive, gentle, and natural methods of parenting because they are what make sense to me.
Instead of believing I need to shape my kids into anything, I believe I am just helping them to fully embrace who they are and supporting them in that process.
I also believe that a lot of modern parenting ideals are faulty, like the idea that you can spoil a child with too many hugs or comfort. I came to these conclusions just through observing my children mixed with copious amounts of research over the years.
The focus of Montessori education on a child-led approach was what first spoke to me because it is what worked for me in all other avenues in parenting, and helped my children flourish to that point.
How to Montessori at home?
There are many ways to incorporate Montessori methods into your home, but the ways that I have incorporated many of the ideas is through:
Simple and few toys that don't make a lot of sounds and are pleasing to the senses
Following my children's lead on what they are interested in. I don't force anything. For example, I tried teaching my daughter to read when she just turned 4, but it became clear she wasn't ready. So I let it go, and now at nearly 5 she is basically teaching herself with minimal help from me.
There are 5 main areas of study in Montessori style education, but I am primarily focused right now on sensory and practical life skills in my playroom. We end up doing informal lessons in other areas throughout the day, but when creating the playroom, the sensory and practical life skills were the Montessori style activities I focused on the most because they were easily done by both ages.
Are Montessori schools good?
No matter the method being used, some schools are awesome and some not so much.
We found a couple of amazing Montessori schools in our area, but school just doesn't feel like a good fit for our family. My husband and I are both home. He works from home, and I watch the kids and run this blog from home.
It didn't seem worth the money to send our kids to a preschool when we can do the same at home.
One downside of Montessori schools is the cost. They are generally pretty pricey, though many offer tuition assistance and grants. So you can always apply for that if you are interested in a Montessori school.
But if you want to know are Montessori schools good in your area, then read reviews, talk to other parents, and schedule a visit to see if it's a good fit for you.
Let's take a look at our Montessori style inspired playroom
I did NOT focus on creating a trendy, Pinterest-worthy, or IG-worthy play space for my kids. I was primarily concerned with function and how it would feel to a child.
A giant leopard scarf on the wall isn't really my idea of keeping with current home decor trends, but when I saw it in a second-hand store, I knew my animal-loving twins would enjoy it.
I also didn't go out and spend $100's or $1000's on all the most en vogue minimalist toys and Montessori style educational toys. You could spend a small fortune on that. Instead, I used what I had and combined it with some sweet second-hand scores (and dollar store!) to work a lot of the most important principles into their play while saving some bucks.
Is that kitchen really Montessori?
No. Not really. People debate whether play kitchens are really aligned with Montessori principles because real-life experiences are preferred. So having children help you in the kitchen is generally more recommended in a Montessori style environment instead of a pretend kitchen.
But my kids spend lots of time with me in our real kitchen helping make popcorn or pancakes, and even sometimes chopping food with safe crinkle cutters. So, I feel as if they get enough of the practical life experience of being in a real kitchen.
Also, I'm not super dogmatic in my approach here. You'll see that I also like to incorporate more Waldorf style (if you're familiar with that) elements into our playroom and education style that might not be strictly Montessori style, such as more focus on fairy tales, songs, beauty, and imagination and art. Not that Montessori necessarily prohibits or doesn't focus on these things (though fairy tales are maybe a no-no), it's just that Waldorf takes a different approach.
The biggest rule to me in Montessori style education is to follow the child's lead, and that's what I do with how I incorporate different ideas and styles into our playroom and home in general. That's why some of what you see will be very Montessori and some will not.
Montessori style shelves
This is the most Montessori style staple in our home. We have a set of cube shelves in the playroom, our bedroom, AND the living room. I have Montessori style shelves set up all over our home because I love storing toys and activities this way.
In the playroom, I have them mostly stocked with various activities with different skills to practices like pouring, scooping, fine motor, sorting, puzzles, and more.
The reason for setting up the shelves this way and storing toys in a way that actually displays them more than storing them is a matter of function.
Montessori style education promotes independence and as much child-led play as possible. Having toys and activities easily accessible for children is an essential aspect of this.
One thing that is utilized with Montessori spaces that I have not incorporated into our play yet are small rugs that children unfold and place their "work" aka whatever they're playing with or using on that rug.
This is done to denote their work area, and also as part of a process that teaches discipline and patience.
My kids seriously could use some of that patience, and we will be starting that at some point in the next few months when I find some Montessori rugs I like at a good price.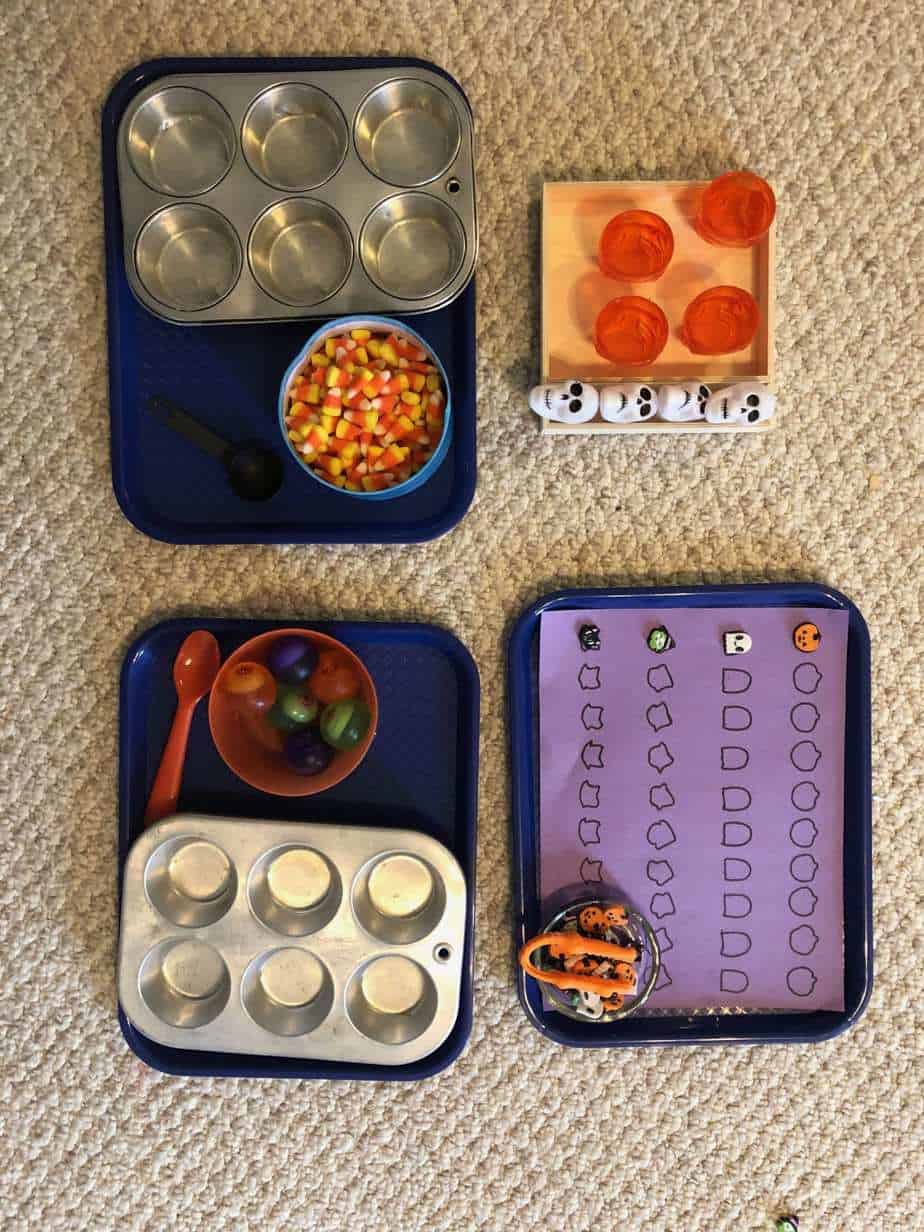 Montessori style trays
You'll notice in a lot of Montessori spaces and on Montessori shelves, activities and games will be set up on trays where children can grab a tray and take it to their workspace to play with.
These are the trays that I have out for Halloween right now. We have:
Scooping candycorn into muffin tins
Putting skeleton heads into skeleton shot glasses
Scooping eyeballs into muffin tins
Sorting erasers in the outline that goes with their shape
I decided to have a lot of similar style activities at once because with three kids they inevitably want to do the same thing, this way I have multiple activities that are both the same but different to give them variety and still be able to do similar activities together.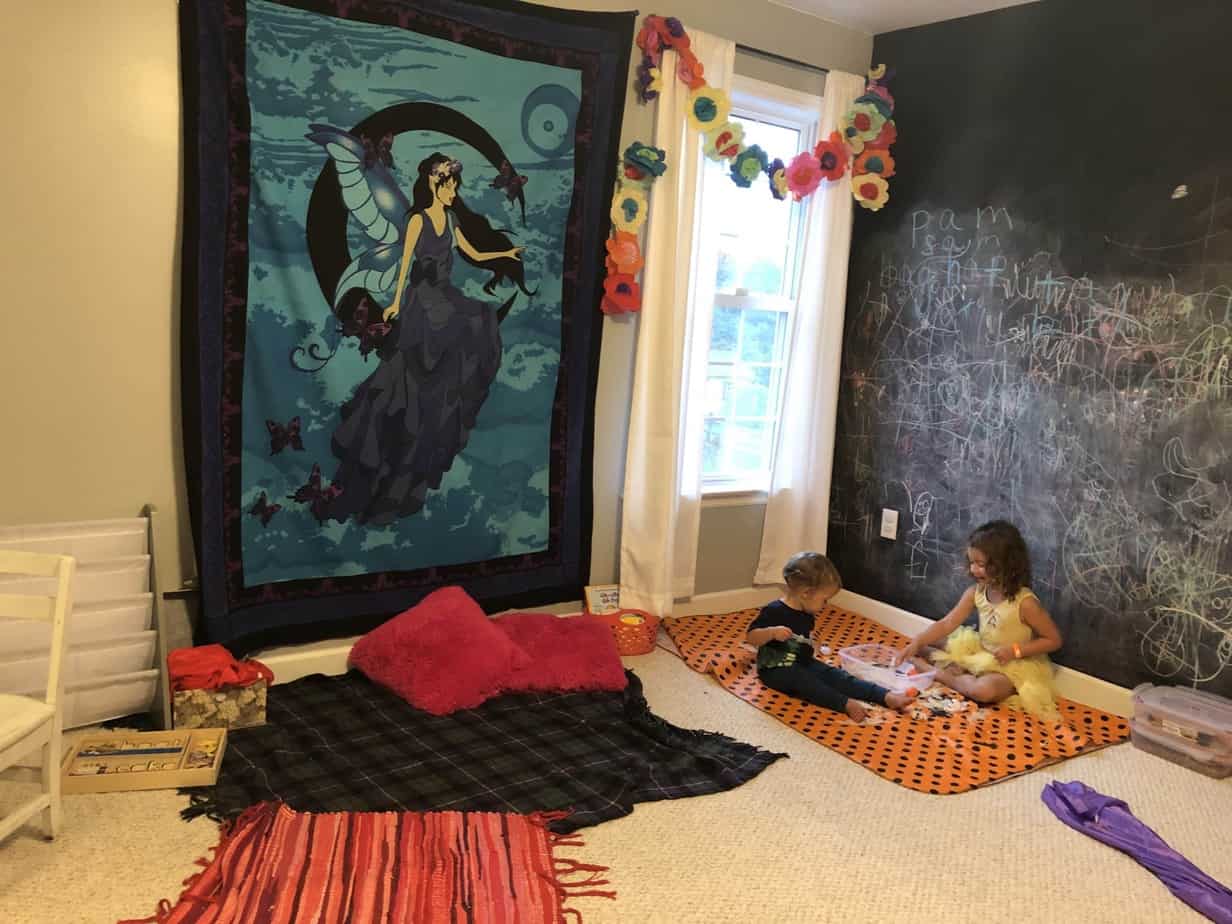 Reading nook and sensory play area
You don't see many books in the book area, which is typical because I keep them to a minimum and swap them out often, but right now I am between seasonal books. But I tried to create a cozy and fun space that included some play scarves. There's not a ton of rhyme or reason except that I did what felt warm and inviting to me with some blankets, rugs, and a tapestry I had.
Then in the corner of the room I have a cheap tablecloth I found at the dollar section of Target with three sensory bins.
Prepared for a mess
The thing they don't tell you in all those Pinterest posts about sensory play is that it is a MESS! Seriously. It's all fun and games until three kids are throwing oatmeal across the room at each other. It can devolve in a chaotic disaster pretty quickly.
But it is also FUN.
So I try to just embrace the mess by setting up this tablecloth, and I try to only open one box at a time. Then when they are done I just funnel all the spillage to the center of the tablecloth and pour it back into the bin.
These are not super Montessori style as far as aesthetics go. When you see lots of Montessori play spaces they are super neutral and filled with natural woods, not bright orange tablecloths. But I go with what works for us and is in budget.
Nature/Seasonal table
Moving forward this little shelf that I'm going to paint white, is going to be our nature or seasonal table. My twins love animals, so I'd like to focus on different sets of animals each season that work with whatever themes we have going on.
It's a work in progress though! So right now I have a few little baskets I can start putting trinkets in that we find in nature, some miscellaneous animals, a couple trays, and a haunted house set I found in Target I thought they'd like playing with.
Once we get past Halloween I am going to try to focus on a woodland animal theme with more real natural inspired items, but this works for now.
I'm still learning what works best, and while I try to stick to Montessori style (and sometimes Waldorf) I am also doing what just intuitively feels right, which is in my opinion more truly Montessori than sticking with any supposed rules.
The key to Montessori style is really to follow your child's lead, and all the other stuff will fall into place.
You've been breastfeeding your toddler for what feels like foreeeever, and you're ready to wean. But how? In this post, I'll break down some tips for how to wean a toddler from breastfeeding. I've put in a combined roughly 94 months of breastfeeding so far between my...