Some people might think I'm a few bricks short of a load for deciding to go to Disney World with Toddlers. That's toddlers plural, not a single toddler, but somehow I made the trek with my twin toddlers and preschooler, and we survived! (and loved it)
Before I just hopped in the car and headed to Florida, I did some serious planning to help ease the stress of Disney World with toddlers. But inevitably, there were some stumbling blocks along the way. Learn from my mistakes so you don't run into the same pitfalls.
These are my favorite tips that I found in both the planning process and ALSO learned the hard way.
(FYI. Some of the links below are affiliate links, meaning that at no additional cost to you, I make a small commission if you click through and make a purchase.)
Stick to Your Routine
You are already going to be contending with a lot on a big vacation, whether that's at Disney World with toddlers or even a simple trip to the local zoo. So do your best to make sure your kids are well-fed and well-rested, which means stick to their routines and schedules as much as possible.
The toughest part of toddler routines is that as they grow and develop their routine or schedule might a bit out of whack already, but do your best.
My twins follow the rough routine of waking up around 6 am then we play, eat, play some more, perhaps run errands or go out for a play date, and then nap happens around 11 am. By 2 pm they are back up and ready to eat then play, play, play before dinner time around 5 pm and bedtime at 7 pm.
I was sure to schedule as much as I could during the time periods throughout the day that I knew they would be the happiest, which is first thing in the morning and about an hour after their nap.
I did push their schedules and routines around a little bit when absolutely necessary, but we did our best and it helped a ton. We had very few meltdowns from the toddlers. (the preschooler is another story)
While we took the toddlers back to our room for naps and quiet time in the afternoon, you can also plan for stroller naps if that works for you. Traveling Mom has some great tips on getting your kids to nap at Disney World.
Go Early and Late to Beat the Heat and the Crowds
There are two major drawbacks to Disney World with toddlers, or even just as an adult.
Heat and crowds!
The best way to beat both is to get to the parks as early as possible, and then be there later in the day too.
When we were there in September it was so hot! I mean ridiculously hot, as in 97 degrees. After just a few minutes outside, I was dripping literally with sweat. I have never in my life sweated as much as I did that week.
My kids and I all get super hot and red really easily. So my plan was to keep us out of the heat as much as humanly possible without sacrificing our awesome time.
Beyond working around the kids' routines, I also scheduled our time at the parks and events so that we were out during the coolest periods of the day, the morning and evening.
My toddlers already wake up super early, at 6 am and sometimes even earlier. So I just made sure to get everyone up and ready at that time so we could start our day right away.
Besides being a bit cooler, there are also lower crowds first thing in the morning. Getting there at "rope drop" or close to it will help you get in some park time before the heaviest crowds.
It seems like around 10 am – 11 am is when more people start showing up.
We tried to be out of the parks by around noon so we could spend those hot and crowded hours back at the room resting, napping, or swimming in the pool.
Then around dinner time, we would head back to the parks when the heat wasn't quite so oppressive.
Know What to Pack (and What NOT to Pack)
Real quick, before we get into what to pack, let's make sure you're packing them into the right stroller. (and yes you absolutely need a stroller if you have toddlers)
Not ALL strollers are allowed at Disney. According to the most recent rules as this post goes live "strollers should be no larger than 31" (79 cm) wide and 52" (132cm) long when measured across the widest and longest points." (be sure to double-check the Disney website before you in case this changes)
All wagon strollers are prohibited no matter the size.
Smoking and vaping are also NOT allowed in any of the parks, and only in designated areas outside the gates.
Disney also does not allow loose ice or dry ice in the parks. If you need to keep anything cool, use cool packs. I love these little penguin packs that fit perfecting into most diaper bag cooler areas.
So what should you pack? This will depend a little on what your kids' needs are, but here is what we packed.
In the diaper bag:
Diapers (duh)
Wipes in the side wipe pouch, plus an extra pack in the big compartment
One change of clothes for each kid
Children's Tylenol
Bug Spray
Sunscreen
Rain cover for stroller
Umbrella
A small blanket to lay on the ground for parade
Hand sanitizer and Wet Ones
A bag of little toys like these to keep kids entertained in lines or at restaurants
Bubbles also to keep kids entertained as needed
Glow sticks in a failed attempt to keep them from wanting light-up souvenir toys
Body glide to prevent chaffing (no thigh gap problems…)
We also packed a small cooler bag (like those lunch-sized ones), and in there I kept a few reusable snack bags of goldfish or other crackers, one granola bar per kid, and then also a few yogurt tubes per kid. We were on the dining plan so I didn't need a ton of food for the kids, but definitely something for in a pinch.
Snacks are always key to surviving anywhere, but especially Disney World with toddlers.
I also had a little tote that I stuck our baby carriers in. Although we had the stroller, sometimes a grumpy toddler needed to be carried, so we had our trusty Tulas just in case.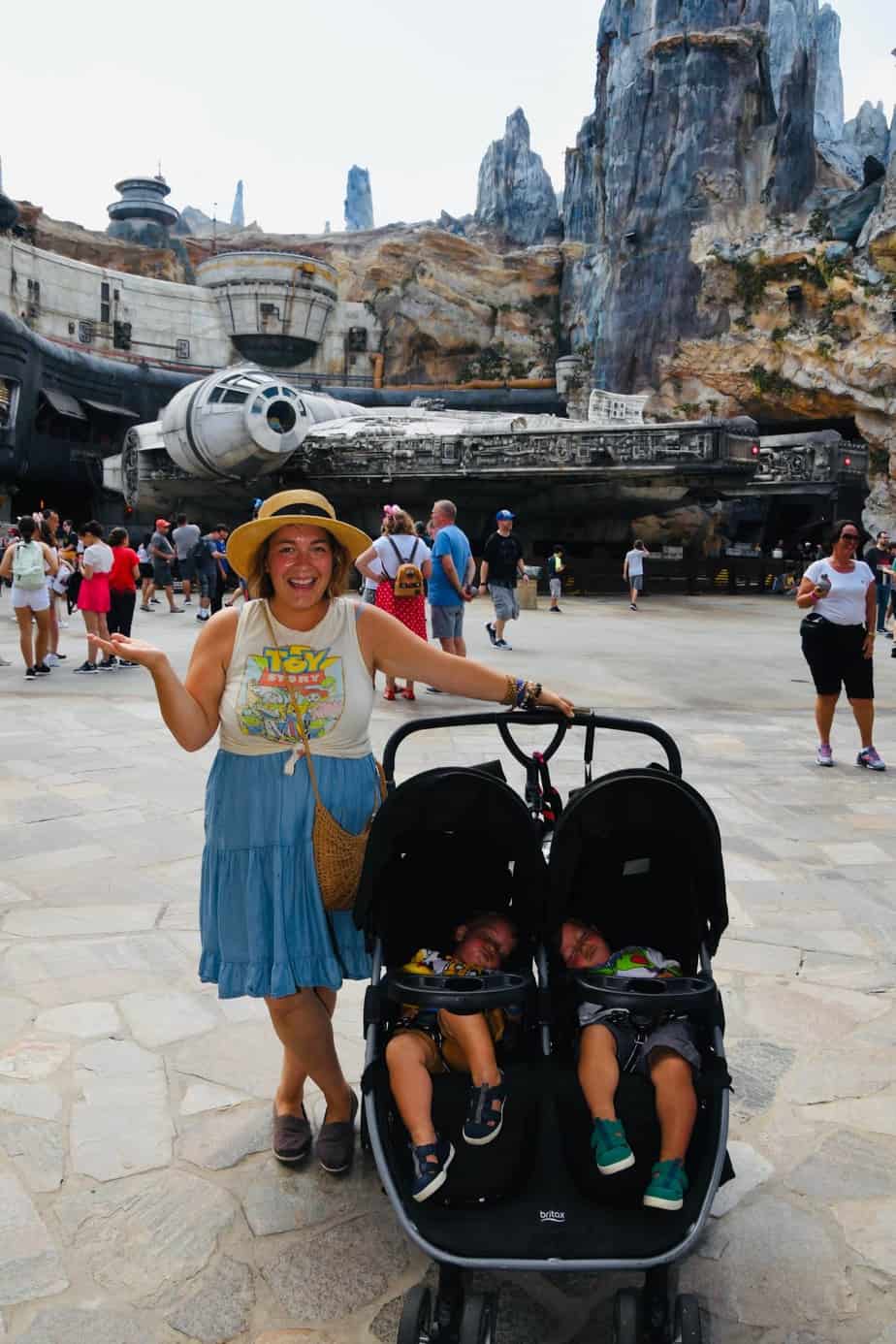 Be Flexible and Don't Stress
This was the hardest thing for me at the beginning of our trip. I spent months and months planning this "perfect" family vacation, not to mention spent a small fortune. So I was a little too attached to making sure we did ALL THE THINGS.
But of course, all the things didn't happen. And you know what? We had an awesome time, and sometimes it worked for the better!
Like when we missed a fastpass (this is like a free pass to skip the line on a ride), but instead ran into Aladdin fulfilling my daughter's dream of meeting him!
Or how instead of pushing my family to get up at the crack of dawn to hit Toy Story without any lines, we scrapped those plans to sleep in and instead get last-minute reservations for a character brunch that turned out to be one of our favs! Sometimes the things that go "wrong" are the best part.
There were some super unsavory mishaps, like my one toddler literally puking in the stroller every single day except for one! He has a weak gag reflex and stomach… the poor kid is just a puker. The heat and all the yummy treats just pushed him over the edge no matter how much we tried to prevent it. By midway through the trip all we could do was laugh and pull out the extra wipes.
Know Where the Baby Care Centers Are
These are hidden gems and must-know for going to Disney World with toddlers! In all of the parks, they have a baby care center.
Inside there are rooms with high chairs, rocking chairs, TV's with movies playing, a kitchen, bathroom, changing tables, and necessities for purchase like diapers or formula if you run out. It's also a great place to pump if you need to, and of course you can nurse anywhere in the park, but if you want privacy, this is the place to do it!
Oh, and did I mention they are air-conditioned? It's like HEAVEN after the heat outside.
My husband took the twins here while I was with my daughter getting her princess makeover, and it was super easy for him to tend to not just one, but two toddlers there. Then we also found ourselves there after more than one puke incident.
The best and most important tip is to just enjoy. There will be a few meltdowns and things will not go exactly as planned, but that's ok. That's life. Have fun.
The truth is that it was an exhausting, but amazing trip. We made memories we will never forget, and somehow we survived Disney World with toddlers.
What about you? Any tips? Share them below in the comments!
Trying to pick a formula? You're in the right place. If you've narrowed your choices down to Similac Advance vs Pro Advance, but just can't make up your mind, let's break down the differences so you can make an informed decision. There are so many formulas out there...