Meal planning can overwhelm anyone. Add a newborn into the mix and it can be downright impossible! But these easy meals for new moms can be lifesavers!
These four tips for creating easy meals for new moms are so simple (and delicious). Mix and match to create a plan that works for you, without the usual stress that meal planning brings up. Because as a new mom, you're probably sleep deprived and spending most of your time feeding that adorable tiny human. But YOU need nourished too!
(FYI. Some of the links below are affiliate links, meaning that at no additional cost to you, I make a small commission if you click through and make a purchase.)
1. Keep it simple when meal planning with a new baby
Don't add anything crazy to your meal plan in the first three months. No new recipes! Stay off Pinterest and Tasty. Now is not the time to try new things. Keep your meal plan basic so you don't get overwhelmed. Feel free to download your

FREE copy of my Monthly Meal Planning Guide

so you can keep these ideas at your fingertips.
Make a big batch of chili, soup or a casserole and it eat it twice or even three times. Leftovers are king but they are especially necessary when you first have a baby. Pull out the crockpot standbys and tried and true family casseroles. Double the recipe if necessary so you can have a second dinner. Chili and cornbread one-night can easily become nachos by serving it over chips and adding cheese and sour cream. Make the really craveable casseroles or soups so your family will be excited for the leftovers! My

Slow Cooker Chicken Chili

is always a hit in my house. (Pictured below)

Keep your family classics in rotation. Stick to the dishes you know best and repeat them like crazy. No one will mind if you serve tacos, spaghetti and chili every week. A. They're just happy to be eating. B. You just had a baby, so they don't get to complain about anything.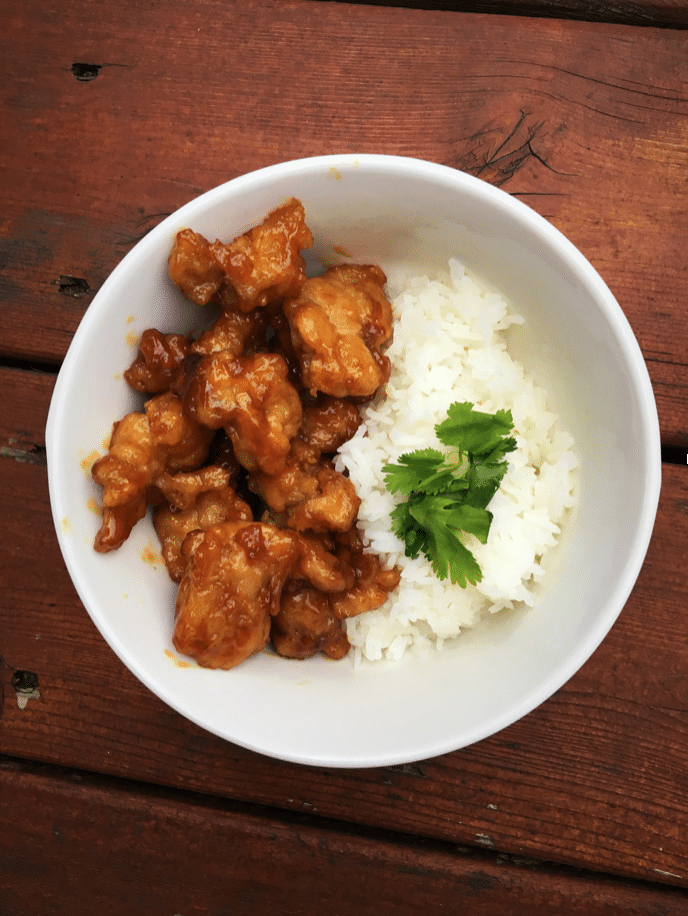 2. Get help from the store to simplify meal planning with a new baby
Rotisserie Chickens. Grabbing a rotisserie chicken every week is an affordable, convenient and healthy dinner option. You can either carve it and serve with a simple salad and bakery bread or shred up the meat and make a quick chicken salad or soup.

Freezer Section Meals are a great staple to add to your meal plan. These can be as simple as frozen pizza and a bagged salad kit, frozen Trader Joe's Mandarin Chicken & Rice (pictured below) or frozen meatballs you can throw in the crockpot with jarred spaghetti sauce and serve in rolls for Meatball Subs. If you can stock up on some of these items before baby comes, even better!

Salads. Grab a garden salad kit, a pack of grape tomatoes, some deli turkey, a bag of shredded cheese and then hard boil a couple eggs. Chop it all up and you have a super simple chef salad that everyone will love. The options for this one are endless, but that combo is my personal favorite.
3. Sandwiches & breakfast for dinner are a new mom's BFF
Hit up the deli section to make yummy wraps and sandwiches. The deli section is your best friend during these first three months. Deli meats and cheeses as well as chicken salad make great entree sandwiches or wraps. They also gave really yummy side dishes like pasta salad, potato salad and rice pilaf. Grab some chips and you're good to go!

Breakfast for Dinner ideas are endless and so easy. It can be as simple as scrambled eggs, toast and fruit or you can take it a step further and whip up a breakfast casserole like this

Breakfast Bubble Bake

(pictured below)
4. Take help when offered (and don't be afraid to ask!)
If someone offers to bring a meal, ask when they want to drop it off! Don't you dare pass on help when it's offered. People want to help you! If someone says "I'd love to bring a meal sometime." Respond back with "That would be great! How about Thursday, the 7th?" Accepting help when it's offered is truly the best thing you can do for you and your new babe.

Get take-out at least once a week and ditch the side of guilt it comes with. If you aren't a family that typically eats take-out, you should start for the first three months of baby's life. Just once a week and it can be as simple as fried chicken from the local grocery store that your husband picks up on his way home from work. Or maybe a local pizza place does a $10 Monday night special, make that your take-out night. Just embrace it for this crazy season of life.

Ask friends to bring meals in lieu of gifts. Now this is easier said than done but if someone does ask you what you could use for the new baby or what size clothes the baby is in, simply ask for a dinner instead. Something as simple as "That's so sweet of you. While we would appreciate any gifts you bring, the thing we could use the most right now is a home cooked meal." I find that people really respond well to that response.
So, there you have it, my tried and true tips for getting you family fed the first three months of newborn-life. You don't have to implement them all but hopefully you got a few ideas to keep with you. These easy meals for new moms will make that fourth trimester sooo much simpler. Make sure you stay well nourished for that little squish, mama, and let us know in the comments which of these easy meals for new moms you can't wait to try!
Hi! I'm Taran and I make meal planning easy, so you can stress less at dinner.
I love all things coffee related, watching The Office reruns with my husband and chasing my daughters around (most days).
I love helping busy moms make monthly meal plans with dinners they can cook quickly that their families will love. When I'm not in the kitchen you can find me hanging with my friends, perusing Goodwill or planning my next state to see!
Find me at: www.undomesticmom.com or www.facebook.com/theundomesticmom
It might be hard to even feel comfortable in your body, let alone love your body, when you've had kids. I remember being afraid to even touch my vagina for a while after my births because I was worried about what I would find, let alone how I cringed at my stretch...